Skijor will return in 2023
Published August 17, 2022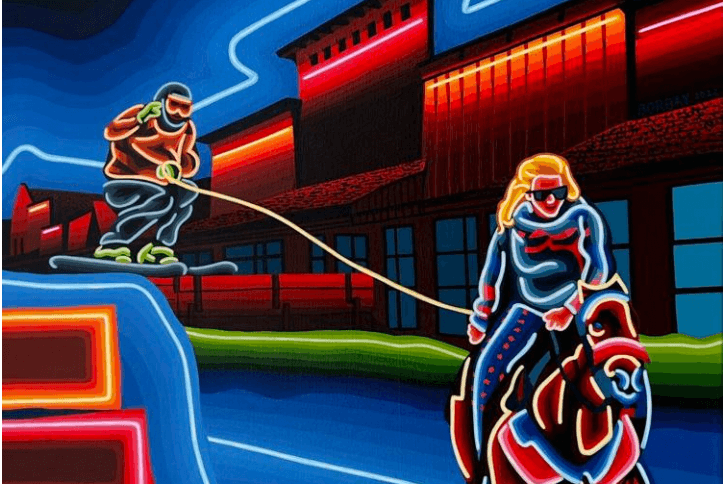 Copy of Teton Valley News Article published on July 20,2022 written by Julia Tellman
Backers fund effort with 90-hole golf game
Skijoring, the uniquely western winter event that combines horseback riding and skiing into a wildly crowd-friendly spectacle, is coming back to Teton Valley after a seven-year hiatus.
Last featured in the Teton Valley Great Snow Fest in 2016, skijoring was suspended in 2017 due to safety concerns, and by the next year the Snow Fest itself was no more.
Local resident Neal Stobaugh remembers watching the events in Victor, Driggs, and Jackson in the mid-2010s. Now his daughter Tayler is competing on the regional circuit. Last year while watching one of her races, Stobaugh started talking to some of the organizers and was inspired.
"I retired a year ago, I have some time on my hands, and I want to give back to the community," he said. "I really enjoy watching the sport and I want to bring it back!"
Teton Valley Skijor, scheduled for Jan. 28 and 29, 2023 at Tributary, is returning with a little help from an Idaho Travel Council grant managed by the Teton Regional Economic Coalition. Stobaugh hopes it will bring more visitors to the valley during the lull between MLK and Presidents Day weekends. An informal board has convened to lead the effort, with Stobaugh as president, Kathy Cisco as treasurer, Aaron Cisco as secretary, and Jason Borbet as member at large.
"When Neal asked me to join his new skijoring board, I only had one question—what is skijoring?" Borbet recalled. "When I found out, it was a hard yes. We have an incredible, passionate team preparing for a major event in January of 2023 at Tributary."
As part of the Skijoring America circuit, Teton Valley Skijor will host professionals that travel up and down the Rockies to compete, but novices are welcome to try their hand as well (and their course won't be as challenging). Personally, Stobaugh wants to see local teammates Christian and Aaron Cisco "come out of skijor retirement" and take a few wins.
Unlike the scene at the last Teton Valley venue, the vacant land that was once called 300 Main, no truck tailgates are necessary for this event—the action will happen on the driving range at Tributary, which provides a natural arena where spectators are elevated above the course. Stobaugh was having beers with the managing partner of Tributary and the topic of skijoring came up. "He was on board within five minutes of conversation," Stobaugh said.
More information will be coming soon, as event organizers and Tributary management hammer out the details, but Stobaugh expects there to be standing room areas, a VIP tent, vendors, and perhaps even a beer garden. There will be a Calcutta auction on Saturday night, with proceeds from the gambling going to benefit HAPI Trails.
"We want the entire community to come out, and people from all across eastern Idaho and Jackson," he said. "It's such a spectator-friendly, fun sport. Everyone I've heard from is excited that it's coming back."
The wellbeing of participating horses is very important to the event organizers, he emphasized. "We'll have a vet, Summer from Circle S, on course both days, and she will shut it down if it seems at all dangerous for the horses. Our number one priority will be safety."
And how does 90 holes of golf figure in to the skijor narrative? "Putting on a skijor event isn't cheap," Stobaugh explained.
In 2011, Dr. Mo Brown and some of his golfing buddies wanted to play every hole in the valley. The annual event, the 92-Hole Golf 'Til You Drop Invitational, became a fundraiser for the Teton Valley Hospital Foundation, but petered out in 2017, Stobaugh said. Local golf fanatics decided to revive the challenge this year, and it may even gain momentum in coming years.
"We called up our local courses and they were kind enough to let us play," Stobaugh said. "We hope it'll become an annual thing again."
Thirteen golfers teed off early in the morning on June 21 at Tributary after a 15-minute frost delay. Finishing off 18 holes in two hours, they proceeded to The Links at Teton Peaks, then Targhee Village, then Teton Reserve, and ended the day at Teton Springs, switching up teams through each round and only losing one player to injury along the way. Captain Ron provided the sustenance at lunchtime, and after 13 hours of play, the tired golfers had an awards dinner at the Bronze Buffalo Sporting Club.
Because no day of golf is complete without a little healthy competition, the stats were tallied, and Dr. Brown took lowest score with 373, and 15 birdies. The golfers all guessed their scores beforehand, and Dr. Chad Horrocks hit his guess right on the money with 449 strokes. According to the numbers, the hardest hole in the valley is #12 at Tributary, and the easiest are hole #16 at Teton Reserve, #6 at Targhee Village, and #5 at The Links.
Borbet, who was able to play alongside his visiting brother-in-law, said he finished 81 strokes under his predicted score of 523.
"The event was a huge success, and I can't wait to play again next year, thanks to my unofficial sponsor—Advil," he joked.
In addition to being a diverting way to spend a Tuesday, the game also provided a cash infusion to Teton Valley Skijor. Each player paid in and some people even ponied up despite not being able to participate.
To find more information or to help sponsor the event, follow Teton Valley Skijor  on Facebook or email neal@tetonskijor.org .